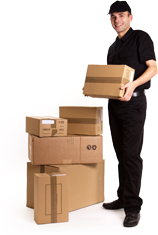 How It Works
Our services are intended for anyone who needs a physical USA address for receiving package deliveries without the need to show up and personally pick them up. To use our services, all you need is a computer with an Internet access. You can easily monitor and manage forwarding of the delivered packages and mail 24 hours a day. Most of the people who use our services are international customers who reside outside of the USA, but who shop at the thousands of USA shopping sites like Amazon.com and online auctions like eBay.com. We also offer our services to US residents who live or travel abroad or just prefer the convenience of an online-managed mailbox. Here is how the process works:
Step 1:

Register for USA Address

First, you register for the service. Registration is quick, easy, and free. All you need to open your account is your name, email and home address. As part of the registration process you will select a service plan. We offer three types of accounts to fit the differing needs of our customers. At the end of the registration process you receive your USA inbox address with a unique unit number that looks similar to this:


Your Name
1234 Somename St, A123
Clackamas, OR 97015


Step 2:

Receive Packages

Using Your USA Inbox Address

Once you complete registration and receive your inbox address you can start using it as a shipping address for your packages. You can use your USA inbox address as your shipping address during checkout for your online purchases at thousands of shopping sites and auctions and never pay a sales tax. You can use the inbox address to receive packages delivered by United States Postal Service (USPS) and shipping carrier such as FedEx, UPS, DHL, OnTrac and others. There is no limit to the number of packages you can receive in your inbox. The size of delivered packages is only bound by the limits of the forwarding methods of your shipment using USPS, DHL, FedEx, or UPS to your final destination. For that reason we cannot ship excessively large shipments such as vehicles. Also, we cannot forward any goods that are dangerous or illegal.

Monitoring Your Inbox

When your package, letter or magazine arrive at AmForward.com warehouse we use the unique unit number assigned to your inbox to identify your package or mail piece. We assign a unique identification number to the incoming item, record its weight, dimensions and the image of the shipping label or envelope. As soon as we enter all this information in our system, we send a notification email to you informing you about the new item in your inbox. You can login to your account and view all the details of the incoming item including the image of the shipping label or envelope.

Step 3:

Forward Packages and Mail

Depending on the service plan selection, you have a period of time during which we store your incoming items at no cost. When you are ready to have your packages forwarded, you just login to your account and create and submit the shipment of your packages to your destination address. During this process you will see the cost for each shipping method available for the package size and destination address. You can request to send your forwarding shipment immediately or schedule it for a later date. We will process your shipment request, send your package to your destination address, and provide tracking information.

Shipment Consolidation

You have the option to consolidate multiple smaller packages and mail pieces received in your inbox to a single shipment. Shipment consolidation can lead to substantial savings where you can save up to 80% in shipping cost compared to shipping individual packages. Here is how it works:
If your inbox contains multiple packages or mail, the shipment management allows you to select multiple packages or mail pieces and have them packed in a single package and forwarded to the final destination.
In addition to simply placing multiple packages in a larger box, customer can specify to have the original shipping packaging removed in order to reduce the size and weight of the consolidated shipment and save even more in shipping costs.
Support
Our online inbox management provides a simple and intuitive interface similar to managing email in your email application. It allows you to manage all aspects of your inbox, from setting up the names of people able to receive packages in your inbox, viewing images of shipping labels for received packages and mail, discarding unwanted items, saving frequently used shipping addresses, scheduling shipments, and setting up package consolidation, to making payments for shipments and services. You can manage these tasks online without the need of directly communicating with AmForward.com staff. Nevertheless you always have the option to ask for advice or help by submitting an online support request. We respond to your support request as soon as possible, but no later than the end of the next business day.
You can find additional details about features and aspects of our services on Why Us and FAQ pages.
Register for free and try our services today.