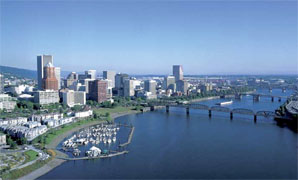 About Us
AmForward.com has been providing shipping and forwarding services to thousands of satisfied customers since January 2012. We specialize in international and domestic package and mail forwarding services for consumers and businesses around the world who need a US-based shipping address.
AmForward.com warehouse is located in the sales-tax-free state of Oregon near the city of Portland. The location in no-sales-tax Oregon is not accidental. The company operates in Oregon to extend the complete benefit of sales-tax-free shopping provided by an Oregon based US address to online shoppers around the world.
AmForward.com services are built around the following concept:
We provide a free, or subscription based personal USA address to international online shoppers and US citizens in a sales-tax-free US state.
Shoppers use this US address as their shipping address for shopping in USA based online stores and auctions, or as a mailbox for their US mail or magazines.
Based on customer's directions, we re-ship individual packages or consolidate multiple small packages to a single package, saving on shipping costs, and forward shipments to almost any address in the world the customer chooses.
Customers use our services for a wide range of reasons:
International shoppers use our services to shop at US online retailers and auctions that do not ship to international addresses, or to save on international shipping cost by consolidating multiple domestic US shipments into a single international shipment.
Expatriates living abroad and US citizens traveling around the country or the world use our services to receive packages ordered in US online stores, as well as to receive their personal mail.
Our warehouse is equipped with state of the art technology to ensure that our customers' packages and mail are processed with speed, efficiency and accuracy.
AmForward.com and its staff are committed to maintaining and improving on the high level of quality service our customers have come to expect from us and continue providing them with the best mix of features, low price, ease of use, excellent support, and great value.
You can find more detailed information about all features and aspects of our services on How It Works, Why Us, and FAQ pages.
Register for free and try our services today. Or take a look at what our customers say about us.